Gareth is based in The Bathroom Company Edinburgh showroom. He says, "I love design in any aspect. In High School, I planned to be a product designer. I applied for several design courses for university. I enrolled in an Architectural Technology at Edinburgh Napier, which I loved and excelled at." Gareth graduated with first-class honours and a couple of design awards. He joined our team in 2017 after a friend recommended him as an Interior Designer. He now "loves designing interiors".  
Brought up in the historic village of Crianlarich, Gareth was drawn to the bright lights of Edinburgh to study. Outside work, as a confessed foodie, he loves dining out. His top local restaurants are Eleanore on Leith Walk, Kyloe's on Rutland Street and Dishoom on St Andrews Square. After travelling in Europe, he loved visiting Thailand, describing it as "just the most unique place".
Usually a mild-mannered guy, you may be surprised that Gareth's hobbies include – Thai boxing, Western boxing and wrestling. He enjoys Brazilian Jiu-Jitsu and previously competed at a club level.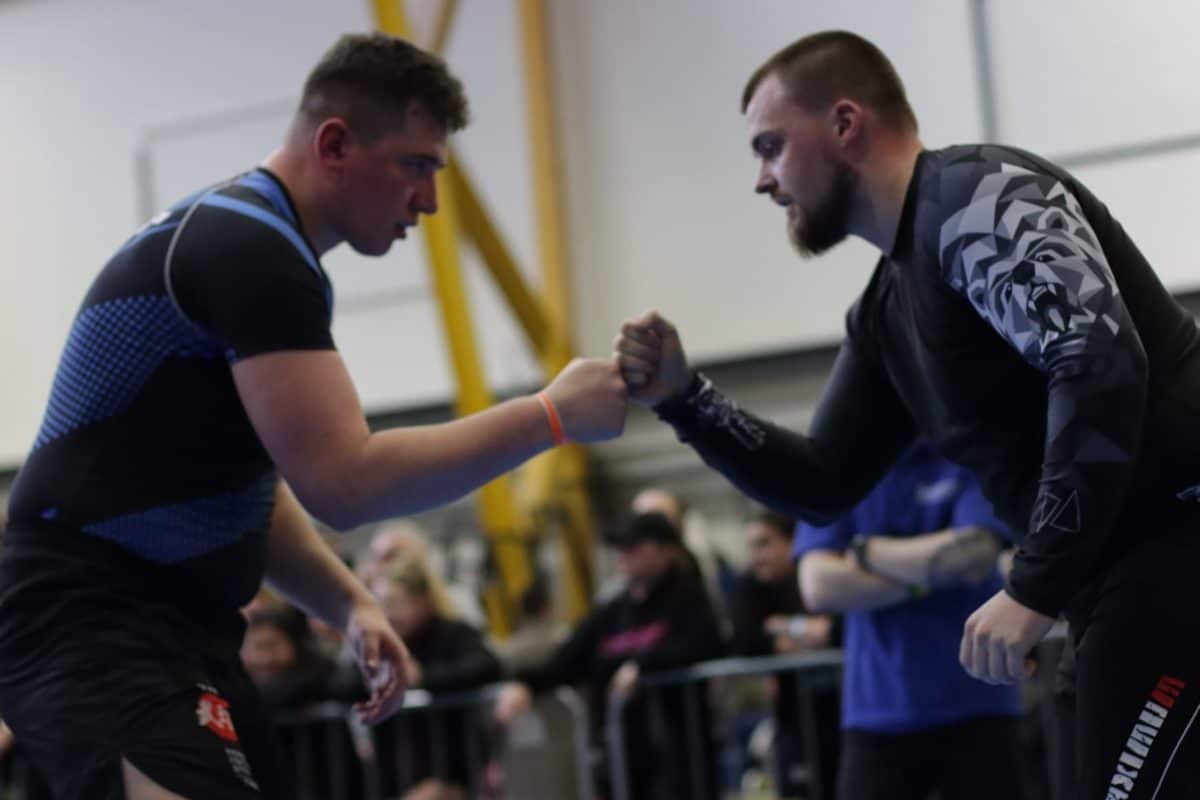 Gareth's inspiration is to look inward to grow. He says, "It's easier to change yourself than anyone else, so look to yourself if you have an issue."
He feels he has two roles, as weekdays and weekends are entirely different, and both are great. During the week, his primary role is designing, whereas he presents to clients at the weekend.
Apart from many happy customers who give him glowing reviews, Gareth has proven his mettle in open competitions. During lockdown, he was a Finalist in the KBB Review Lockdown Special International competition, with the design shown below.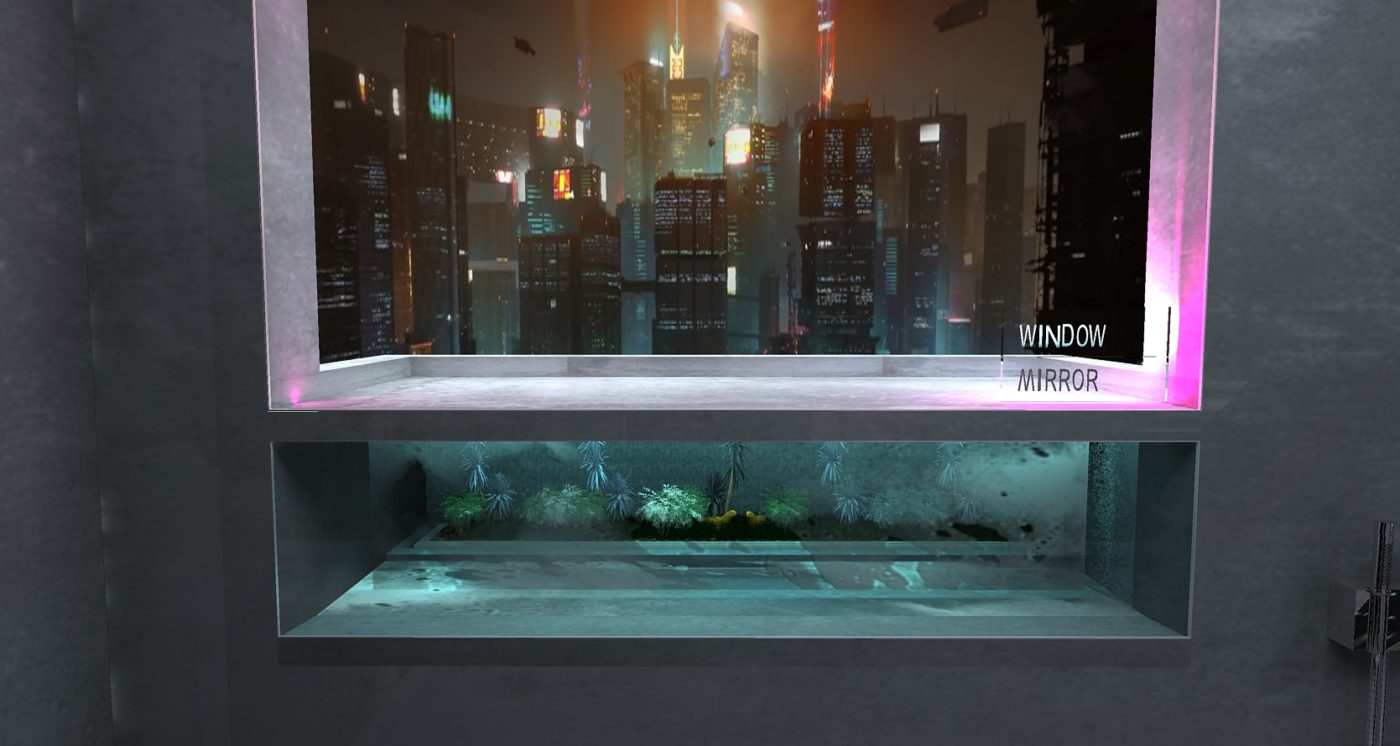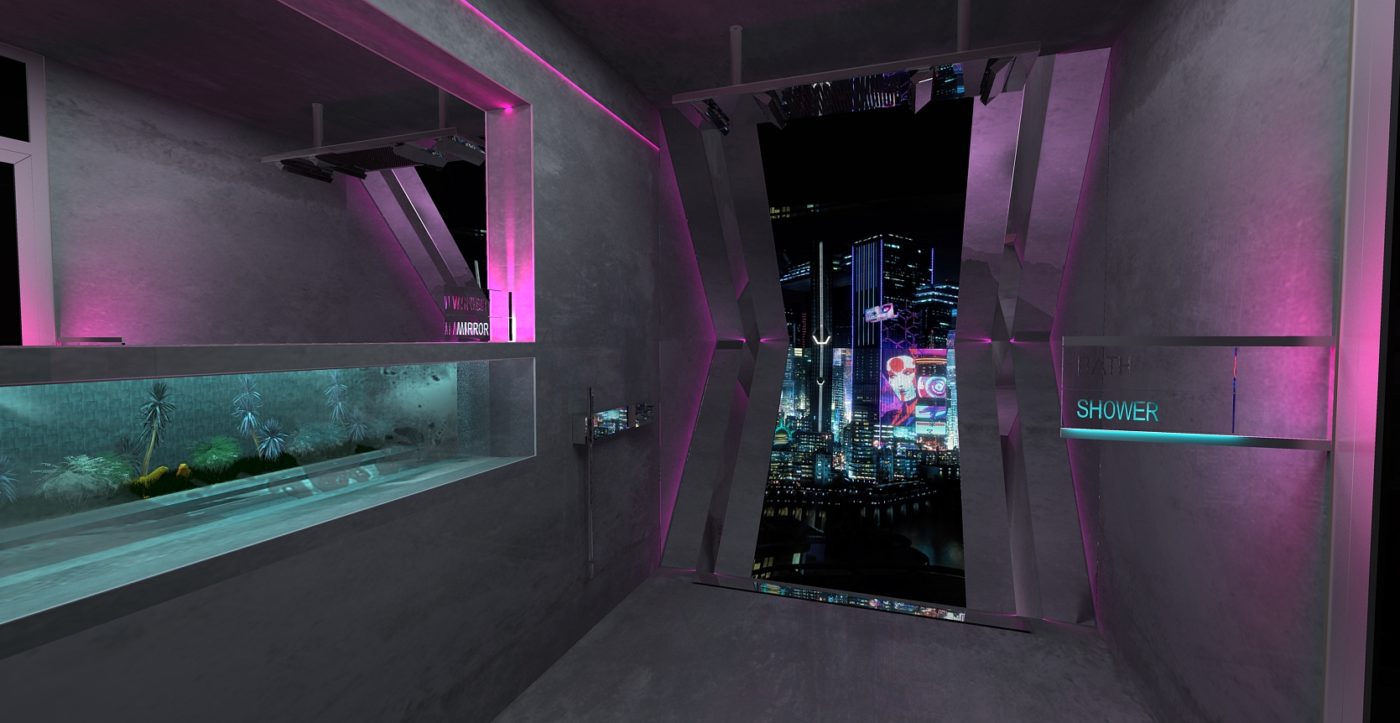 Gareth also excelled in a Virtual Worlds design competition, placed fourth among 200 entrants.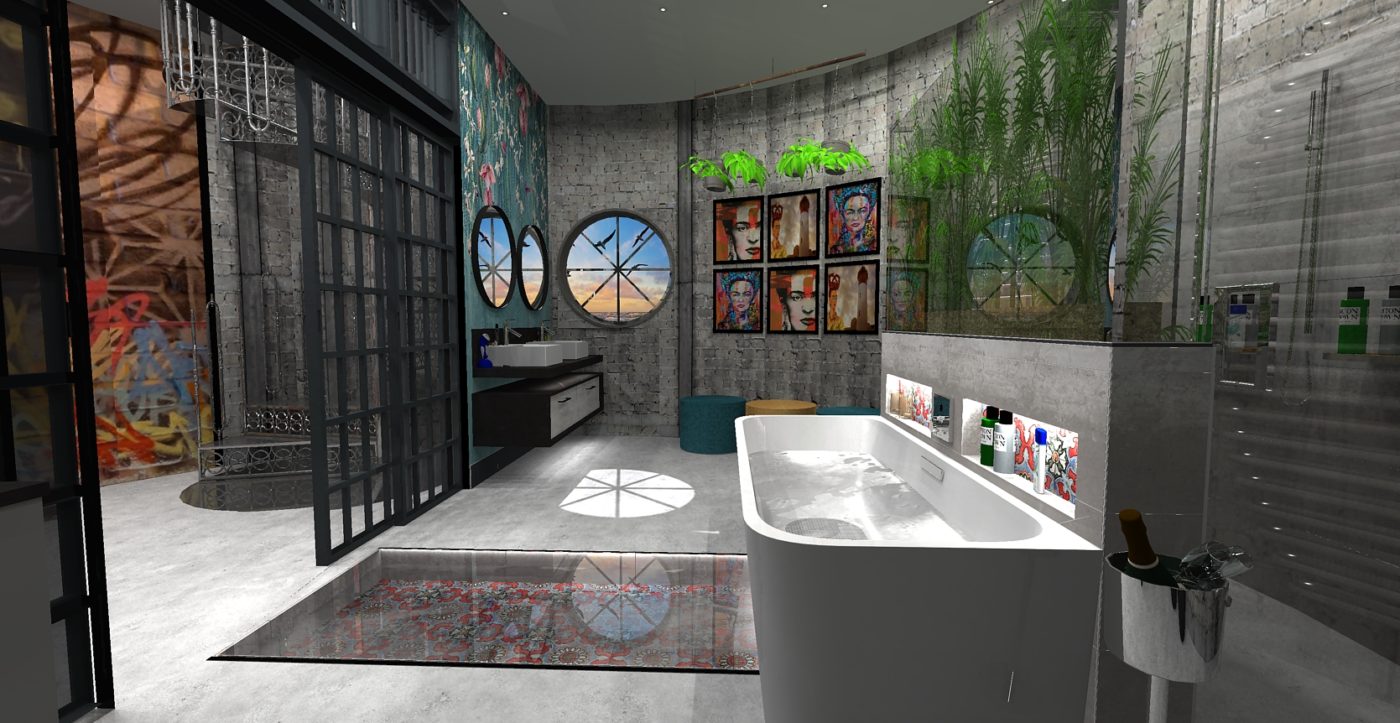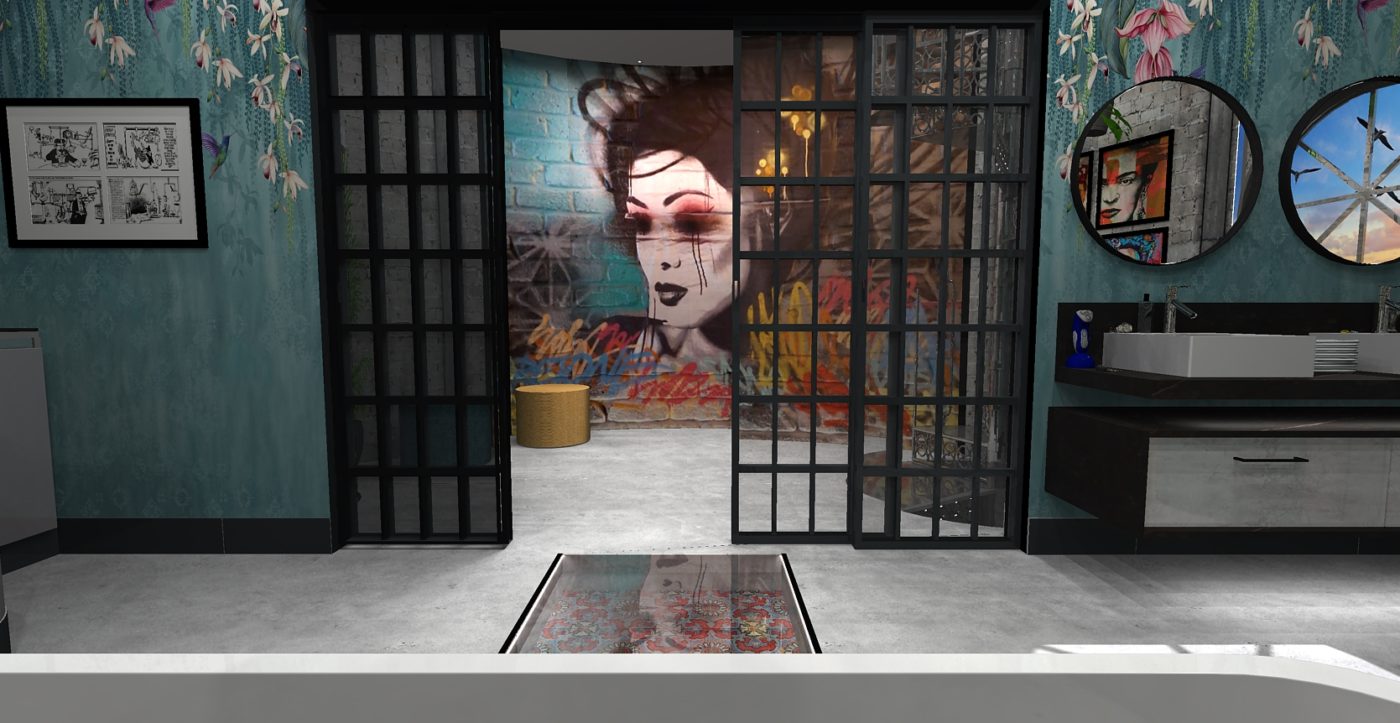 Gareth described his feelings about the design process. He says, "There's a special part in the process it happens with every project, usually during the conceptual stage, pen on paper scale rule, with a hot coffee…
Do all designers feel this way? There's always a moment in the process for me where things start to align, and the excitement, the rush when suddenly everything falls perfectly into place, is euphoric, a straight dopamine rush. And that's why I do this. Every project, no matter the scale – it could be a utensil holder that I designed in high school or the art gallery I designed in uni; the project size is not relevant, just getting the balance of all parts to align.
I have a finished design. It's already brilliant (modest, I know), but the weekend is here, and this is where I prove the design is brilliant. Presentation is where I present my proposal to our prospective client. I love connecting with clients during these meetings, usually during the initial design presentation; my main aim is to confirm the layout and incorporate our customers' preferences. The next stage for me is style and colour when the client's input is often the most valuable. This helps create a unique and personal design. Although systematic, this approach is highly successful."
Asked about his favourite brands to incorporate into his designs, Gareth says, "While there are countless brands that I admire and appreciate, Matki showers, Coalbrook brassware, Keuco furniture, Bette baths, and Osborne and Little wallpaper hold a special place in my heart. Each brand brings a unique blend of style, quality, and functionality, allowing me to create stunning and personalized spaces for my clients.
Let's start with Matki showers. There's something truly captivating about Matki showers that sets them apart. Their unwavering commitment to craftsmanship and attention to detail is truly unparalleled. When I integrate Matki showers into my designs, I can be confident that I am offering my clients a product that not only exudes visual appeal but also stands the test of time. The extensive range of designs by Matki allows me to cater to a diverse range of design preferences, from sleek and minimalist to traditional and opulent.
Next up is Coalbrook brassware, a brand that always impresses me with its quality and design. I fully understand the significance of creating well-designed and functional bathrooms. Coalbrook brassware offers elegance and sophistication that can elevate any space. Their range of faucets, showerheads, and other bathroom fixtures not only enhance the overall aesthetic but also provide practical functionality. The attention to detail in their designs and the use of high-quality materials make Coalbrook brassware a go-to choice when creating luxurious bathrooms.
Matki showers, Coalbrook brassware, Keuco furniture, Bette baths, and Osborne and Little wallpaper are my favourite brands to incorporate into my designs.
Keuco furniture is another brand that I consistently turn to in my design projects. Keuco is synonymous with exquisite design and exceptional quality. Their furniture pieces are crafted with precision and elegance, adding a touch of sophistication to any space. The brand offers a diverse range of furniture options, including vanities, cabinets, and storage solutions. What I appreciate most about Keuco furniture is the meticulous attention to detail. The choice of materials, the sleek finishes, and the thoughtful design elements all contribute to creating a cohesive and stylish bathroom. With Keuco furniture, I can effortlessly create beautifully designed and highly functional spaces that cater to my clients' needs.
Moving on to Bette baths, I'm drawn to their timeless design and superior craftsmanship. Bette baths are crafted from high-quality materials, such as glazed titanium steel, ensuring durability and longevity. The range of bath options Bette offers is impressive, from classic freestanding tubs to sleek built-in baths and luxurious whirlpool systems. Bette baths are renowned for their ergonomic design, providing ultimate comfort and relaxation. The variety of sizes and shapes allows me to find the perfect bath to suit any design concept. With Bette baths, I can transform bathrooms into luxurious and inviting spaces that exude elegance and tranquillity.
Laufen is another great brand. Their products are not only of exceptional quality and durability, but they also offer a wide range of designs to suit various styles. From sleek and modern to classic and elegant, Laufen has it all. What sets them apart is their commitment to sustainability, using eco-friendly materials and production methods. This aligns perfectly with the growing demand for environmentally conscious design. Additionally, their attention to detail and collaboration with renowned designers results in stunning and functional collections that inspire creativity.
Lastly, Osborne and Little wallpaper is a brand that consistently sparks my creativity and adds personality to my designs. They offer an extensive selection of wallpapers, ranging from bold and vibrant patterns to subtle and sophisticated designs. Osborne and Little's wallpaper collections encompass various styles, ensuring something for every design aesthetic. The quality of their materials and the intricate designs are evident in each roll of wallpaper they produce. By incorporating Osborne and Little wallpaper into my designs, I can effortlessly transform plain walls into stunning focal points, adding depth and character to any space.
While I may not place as much emphasis on tile brands and prefer local distributors who always find something unique to the market as they spend a lot of time scouting the factories in Italy and Spain for innovations, I do understand the impact a well-chosen and thoughtfully designed tile can have on a space. However, what truly matters to me is the quality and origin of the tile rather than the brand itself. As you rightly mentioned, many tile brands come from the same few factories. Therefore, I prioritize tiles made in Spain or Italy, as these countries have a long-standing reputation for producing high-quality tiles. By choosing tiles from these regions, I can confidently offer my clients products that are beautiful but also durable and reliable."
In conclusion, Gareth says, "Matki showers, Coalbrook brassware, Keuco furniture, Bette baths, and Osborne and Little wallpaper are my favourite brands to incorporate into my designs. Each brand brings unique qualities, from exceptional craftsmanship to innovative design elements. By seamlessly integrating these brands into my projects, I can create stunning and functional spaces that cater to my clients' individual needs and preferences."
We know our business would be nothing without the people who work here. A good team is the key to success. Our people possess a vast array of skills and experience that allow the business to perform at the highest levels. Everyone within the business enjoys their role. This enjoyment is reflected in the first-class customer service we work hard to provide to all our customers.
If you would like to know more about how our team could help design and deliver an inspirational new room for you, either call our Edinburgh or Perth showrooms or click the link below, and we can help.