There's an upcoming trend within the wonderful world of bathrooms and we have a blog which will tell you how to get started on this trend. Introducing to you: The Industrial Bathroom Design! The inspiration behind this design is the 'New York' 1950's style industrial areas. This style emanated in the kitchen first of all and now it's making its way into the bathroom! We'll now break down the basics of what is included in this design: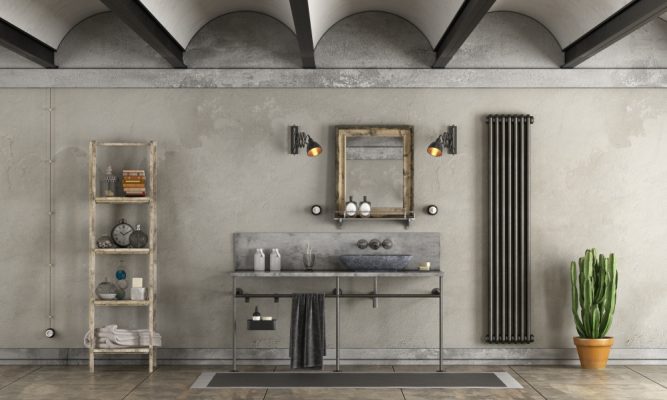 1. Chrome Pipes
You can choose from steel, chrome, brass or copper however the metallic finish that it gives will look more rustic and slightly dull. Metalwork will blend in together nicely with any wood objects in your bathroom to give it that industrial vibe and will completely transform your bathroom into a bathroom worth putting on Pinterest or Instagram!
2. Lighting
Contrasting light and dark lighting will set the mood of the bathroom too. Using spotlights and low
hanging lamps will give the authenticity of an industrial scene.
3. Tin and Brass Accessories
Yes, you heard us right! This includes freestanding tin bath tubs, tall vertical designer radiators, minimal glass shower frames and taps with brilliant brass or dulled steel. A unique way of designing your bathroom!
4. Vanity Units & Basins
Do something different and use the concrete effect for wall displays as well as your flooring! A hanging wash basin. The vanity unit is one of the key elements when creating a well-rounded bathroom aesthetic of any kind – especially an industrial look.
5. "Soft Industrial"
What does this term mean? It touches upon the fact that a 'full on' industrial bathroom may not be welcoming enough for your average family home. We do not want any accidents inside the bathroom so by using accessories which makes it less extreme and more mellowed down while maintaining the effect of the New York 1950's Industrial area.
Visit our stores in Edinburgh and Perth to meet our specialised teams and get your dream bathroom you've always wanted!
Edinburgh | 8 Kew Terrace EH12 5JE | 0131 337 3355
Perth | 32 Leonard Street PH2 8ER | 01738 440 333